Thailand
Sharp-tongued campaigner Laurie Kazan Allen clearly has no qualms about besmirching the good name of those who disagree with her.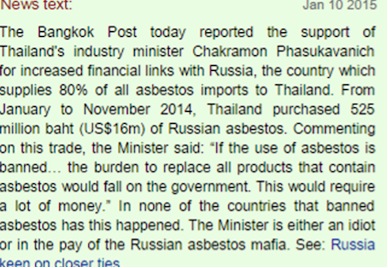 Having expected the Thai government to simply roll over and approve a ban on chrysotile, she didn't take kindly when a minister questioned whether the move made any sense.
The Thai Cabinet has rejected the proposed ban citing the lack of evidence of asbestos-related disease in Thailand.
The tainted cavalry arrives
A self-appointed cavalry rode into Thailand recently.
Greeted by loyal local acolytes and feted by the media – the global champions of the international ban asbestos lobby camped out in a 4-star hotel in Bangkok.
People like Dr Barry Castleman who a senior US judge labeled "unreliable" and his evidence "inflammatory" and "hearsay".
Dr Ken Takahashi who appears confused, and perhaps conflicted, on whether he is an anti-asbestos activist from the Global Ban Asbestos Network (GBAN) or a director at the supposedly independent World Health Organisation.
The pair have been racking up the air miles alongside fellow frequent fliers like Asian Ban Network "General" Sugio Furuya.
These modern crusaders descended on the Thai capital en masse to – they hoped – herald in the prohibition of chrysotile cement.
For 70 years chrysotile has provided Thailand with a cheap and durable material to build high quality, low cost housing – tried and tested products to protect homes and buildings from the country's heat, humidity and heavy rains.
But this highly motivated lobby talks darkly about the danger posed by chrysotile, and is urging Thailand, its government and its people to act "before it is too late" – whatever the cost.
Chrysotile is asbestos, they say, and all forms of asbestos are carcinogenic and therefore must be banned (although so are wood shavings, salted fish and silica – but there are no calls for a prohibition on these!).
These scaremongers point to health crisis in other parts of the world, places where different, more dangerous, forms of asbestos were widely used without regulation, and claim that it is only a matter of time before Thais start dying.
But in Thailand, this same well-funded group cannot point to a single case of someone who has developed cancer or illness because they lived under a chrysotile roof, drank from a chrysotile water pipe or worked in a factory that uses chrysotile.
While people are dying in their thousands from diabetes, HIV-AIDS and smoking and alcohol-related diseases, this noisy, special-interest, international lobby accuses Thai doctors of being badly trained and simply not good enough to spot an epidemic of
asbestos deaths and that 70-years is too short a timeframe for the problem to surface.
They deliberately ignore the fact that the unarguably serious health problems elsewhere are caused by other forms of asbestos, amphiboles, like blue and brown asbestos, which are highly dangerous.
And fail to acknowledge that chrysotile is a vastly different material, which, when encased in cement, is proven to be safe, and that the Thai experience only goes to underline this.
Profit motive
With perfect timing, the ban lobbyists took up residence in Bangkok just as their wealthy friends at local conglomerate, The Siam Cement Group (SCG), turned the screw on their buddies in the government to back a ban on chrysotile.
Once one of leading chrysotile cement product suppliers in Thailand, SCG gambled on other more expensive and less effective alternatives — losing it money and market share.
Now, with the noisy lobby for company SCG hopes the new rulers will ban its competitors' products – probably forcing them into bankruptcy — and simply hand the firm a countrywide monopoly.