News

Chrysotile Workers From All Over the World Gathered in Moscow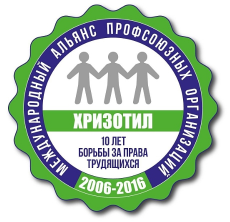 A ceremonial meeting of the International Alliance of Trade Union Organizations «Chrysotile» was held on the premises of the Federation of Independent Trade Unions of Russia, Moscow. The representatives of countries — members of the alliance (trade union leaders, scientists and medical professionals) took part in the event.
The Russian delegation led by Andrey Kholzakov, the Chairman of the International Alliance of Trade Union Organizations Chrysotile. Boris Soshenko, the Chairman of the Russian Trade Union of Construction and Building Materials Industry Workers, acted as the event organizer. The event was attended by delegates from Uzbekistan, Kazakhstan, Kyrgyzstan, Cuba, Vietnam, Canada, Brazil, Mexico and India. The Anniversary Meeting took place within the framework of the Chrysotile and Occupational Health Conference which took place in Moscow on November 7-9. During the sessions, the event participants discussed the future of the global chrysotile industry and a number of issues related to the production and use of chrysotile cement products in the domestic and international markets.
The anti-asbestos campaign is a great obstacle on the road to development of the chrysotile cement industry. The issue of including chrysotile asbestos in the list of highly hazardous substances is brought up every two years at the meeting of the parties to the Rotterdam Convention. In 2011, 2013, 2015 the Alliance representatives participated in the meetings and achieved a victory — the attempts to ban the mineral failed. It is worth noting that chrysotile asbestos has been studied in research centers in Russia for more than 70 years, and numerous studies have confirmed the safety of controlled use of the products based on it. Moreover, in recent years the attitude to the mineral has also changed dramatically in the international markets: the counties of South-East Asia are successfully using chrysotile cement to contribute to raising living standards and development of industry.
The International Alliance of Trade Union Organizations Chrysotile was established in 2006 by the representatives of the chrysotile industry of 8 CIS countries (Russia, Ukraine, Belarus, Kazakhstan, Kyrgyzstan, Uzbekistan, Tajikistan, Azerbaijan). Andrey Kholzakov, who is now the Head of the Asbest City District (Sverdlovsk Region, Russia), was elected as the Chairman of the Alliance.